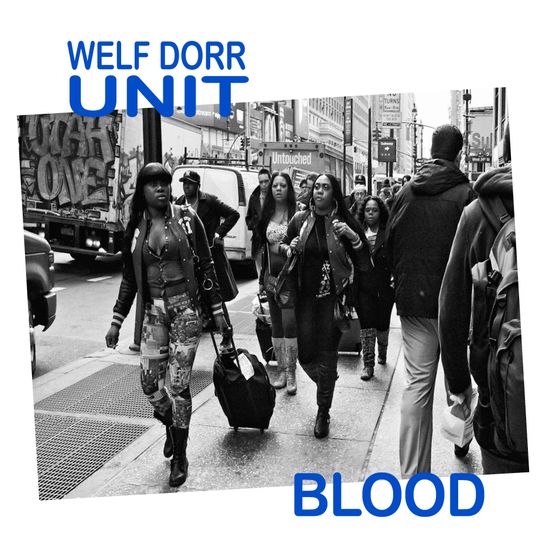 "This is powerful stuff. It's powerful and throws a punch like it means it. But there's a flow to this music, a lumbering, yet effortless grace to accompany the brutality."
(Dave Sumner, Bird is the Worm)

"Like Sonny Sharrock's touchstone Ask The Ages… Dorr unleashes a brutal and blustery aural overload on Blood that floors the punk, metal, and funk-jazz pedal into high gear."
(Brad Cohen, Brooklyn Rail)

"…the music does have that earlier Blood Ulmer-like jazz/rock/funk/punk demon drive! This is jazz-rock at its best and it rocks hard…"
(Bruce Gallanter, Downtown Music Gallery)

"This band has a meaty, weighty sound and drive like a freight train. It sits in a comfortable spot between John Zorn's saxophone based rock-jazz groups and the harmolodics of Prime Time." (George Grella, New York City Jazz Record)


"Welf Dorr pilots this exciting multinational quartet through hardcore jazz fusion, funk, and detours into the solar system … executed with tenacity and forthright intentions."
(Glenn Astarita, AllAboutJazz)

Welf Dorr Unit's "Blood" on Chant Records (all major online outlets)
and on the Portuguese label Creative Sources (CDs),
CDs also available at Downtown Music Gallery and directly from the artist

---
our weekly gig continues with
Welf Dorr (sax), Elias Meister (guitar), Dmitry Ishenko (bass) and Dalius Naujo (drums)
every Sunday (9pm) at the Keep (205 Cypress Ave)

on April 24 we will have special guest Kenny Wollesen on drums!
2 sets starting at 9pm, no cover - donations suggested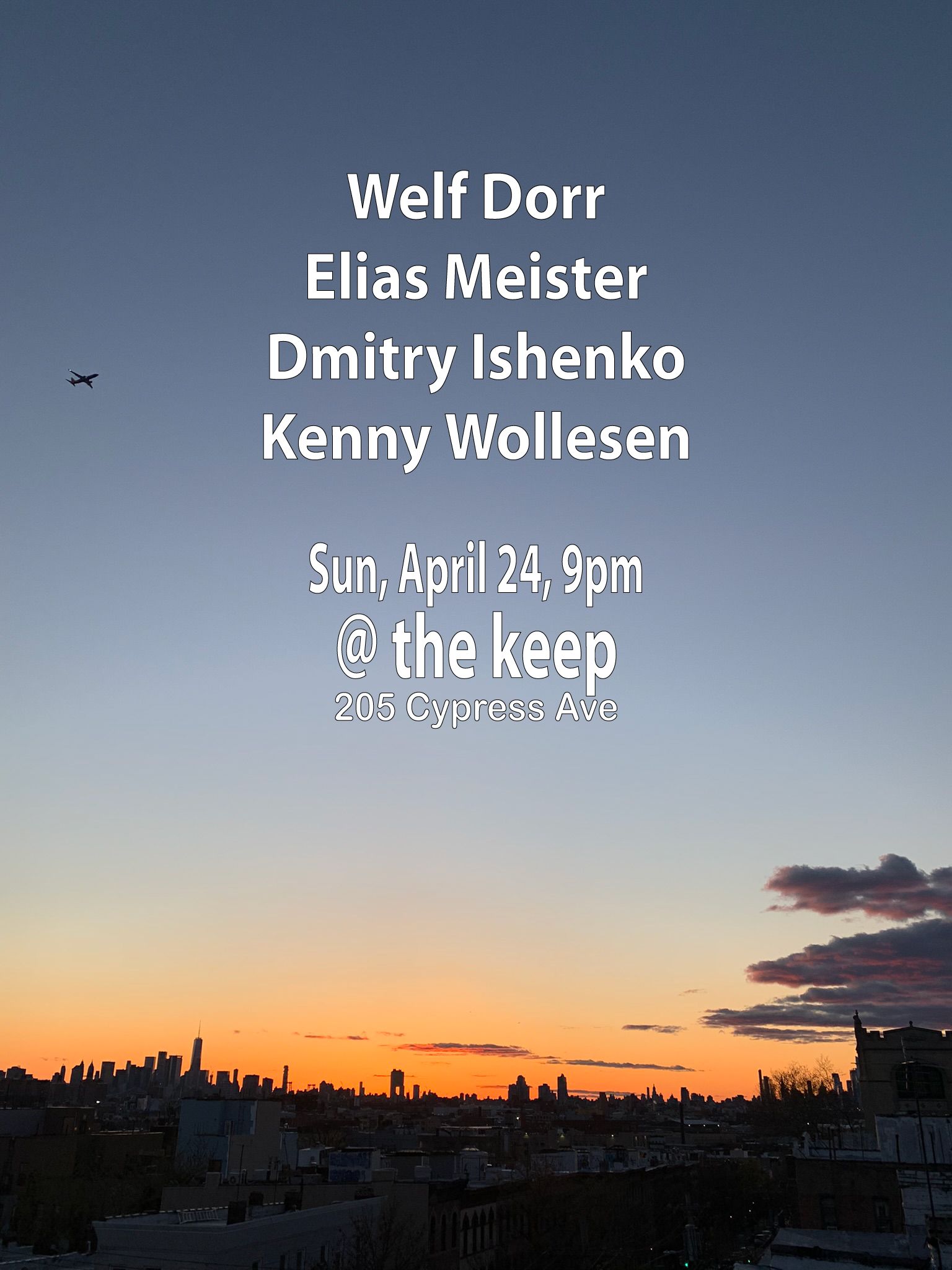 new record "pandemic house sessions"
with Dmitry Ishenko (bass) and Joe Hertenstein (drums) out now on bandcamp !
In the middle of March 2020 Covid hit NYC really hard and everybody holed up.
Without warning all gigs were instantaneously canceled.
By May/June some people would dare to leave their homes again and the Black Lives Matter protests started in full force…
In July the three of us met at Joe's apartment in Brooklyn to hang out, have some drinks on the roof top and play music together again for the first time after quite a while.
With the exception of two compositions all these tracks are spontaneous collective improvisations.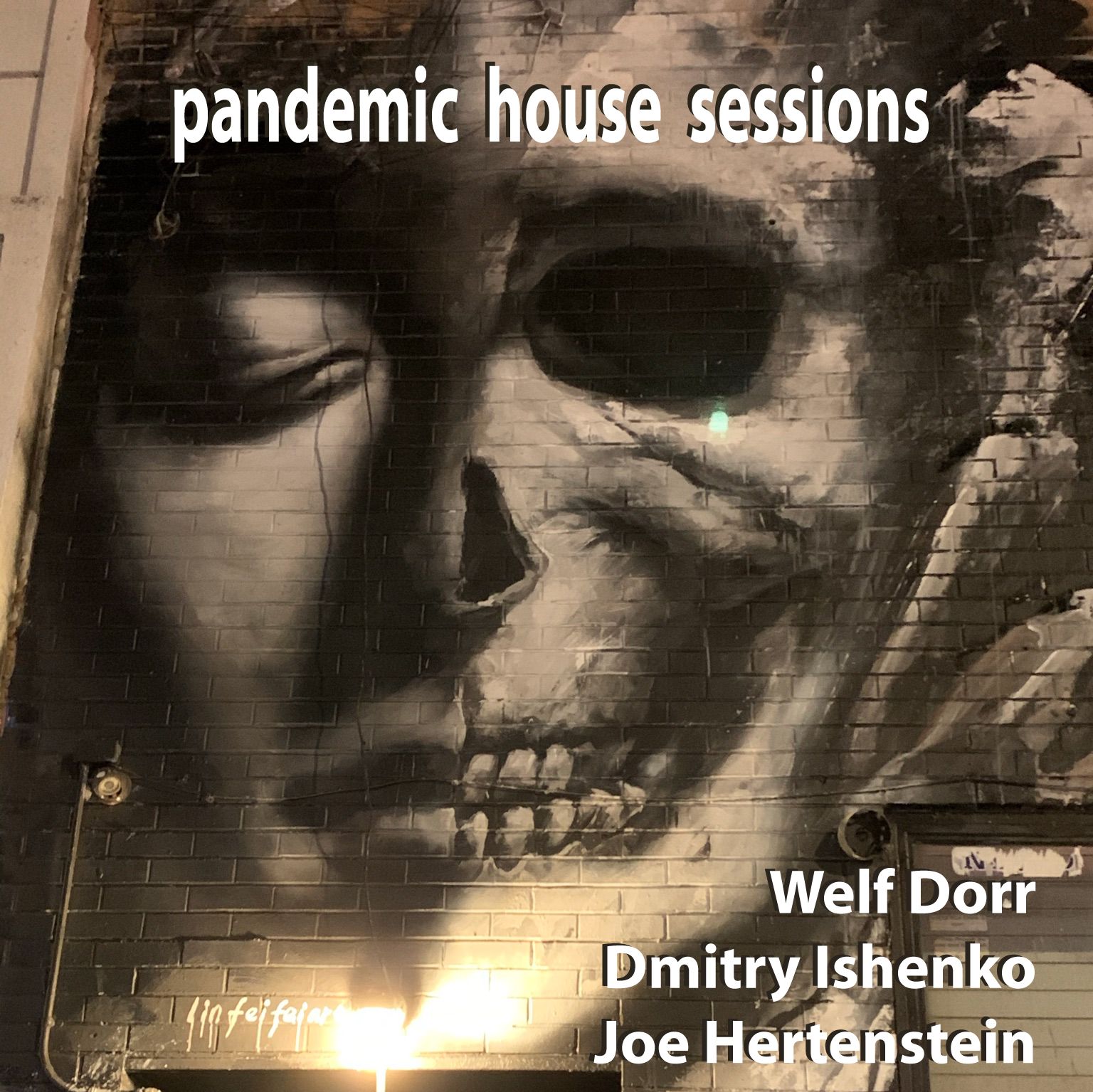 new exciting project: KLIS
During the pandemic lock-down we started a new collaboration recording remotely from our homes in NYC and London drawing influences from jazz, electronica and world music. Even though this music was recorded online, it is spontaneous and interactive with lots of improvisation.

KLIS is saxophonist Welf Dorr (Germany),
synths/sound designer Julius Zubavčius (Lithuania) &
drummer/percussionist Dalius Naujokaitis (Lithuania).

Recorded recently within a few weeks the music has already been featured on different Lithuanian radio shows.
https://klis.bandcamp.com/releases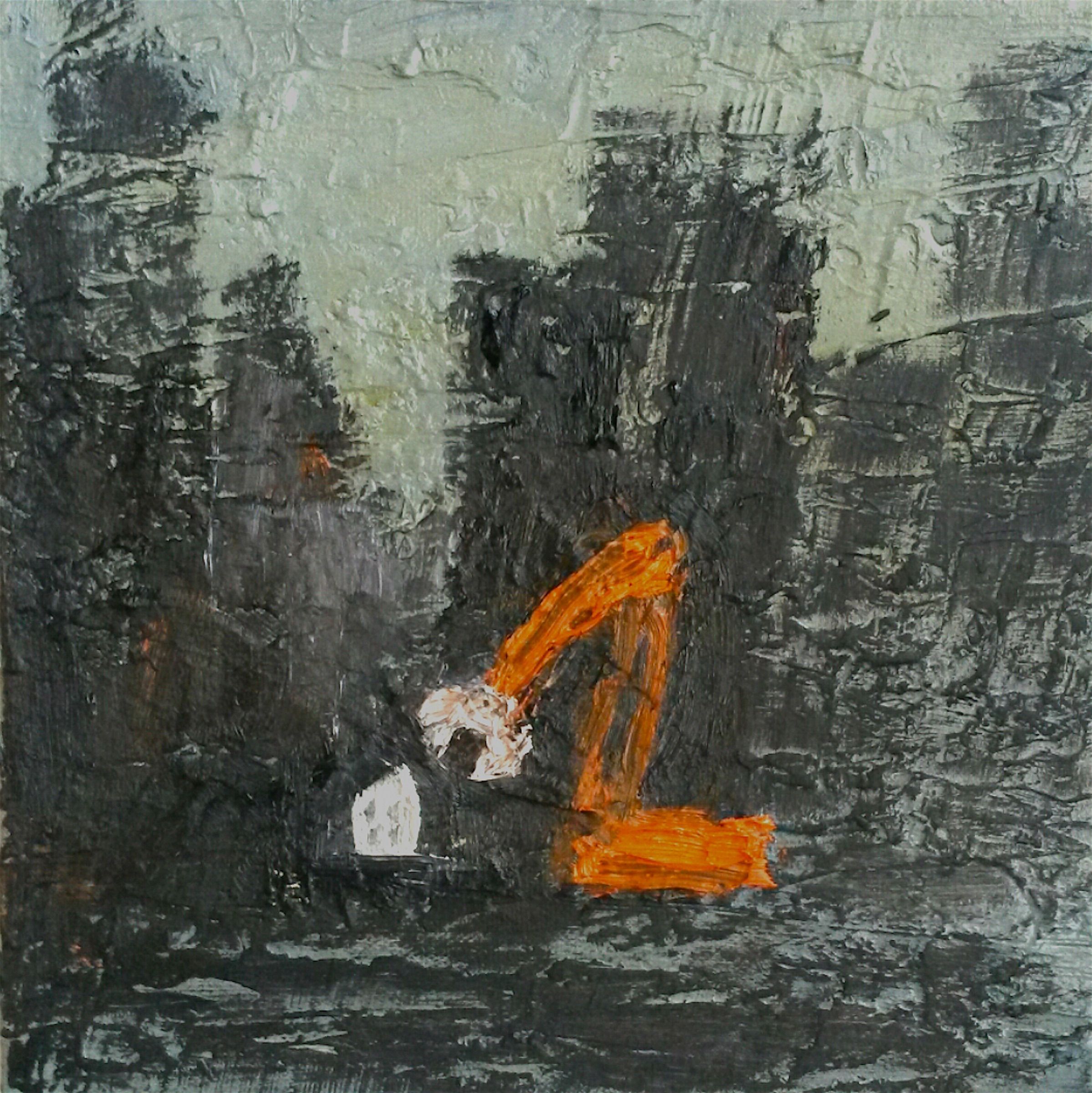 art work by Sandra Koponen


Nublu Orchestra with
Graham Haynes, Ilhan Ersahin, Kirk Knuffke, Welf Dorr, Jonathon Haffner, Mike Irwin, Doug Wieselman, Johnathan Goldberger, Mike Kiaer, Kenny Wollesen
at nublu, 151 Ave C, January 9, 2020 (8pm)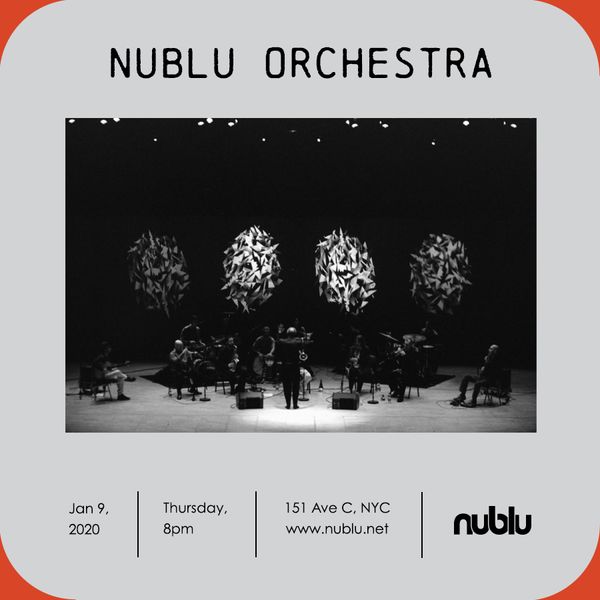 JazzHabitat Special Edition,
a large improvised music ensemble conducted by William Shore
with Kenny Wollesen (dr), Dalius Naujo (dr), Joe Hertenstein (perc),
Elias Meister (g), Vern Woodhead (g), Eli Wallace (p),
Shanir Blumenkranz (b), Dmitry Ishenko (b),
Kai Sandoval (tr), Mike Irwin (tr), Welf Dorr (as), Nick Gianni (bari), Kalun Leung (trb),
at ElBarrio ArtSpace (215 E99th St), Dec 15, 7pm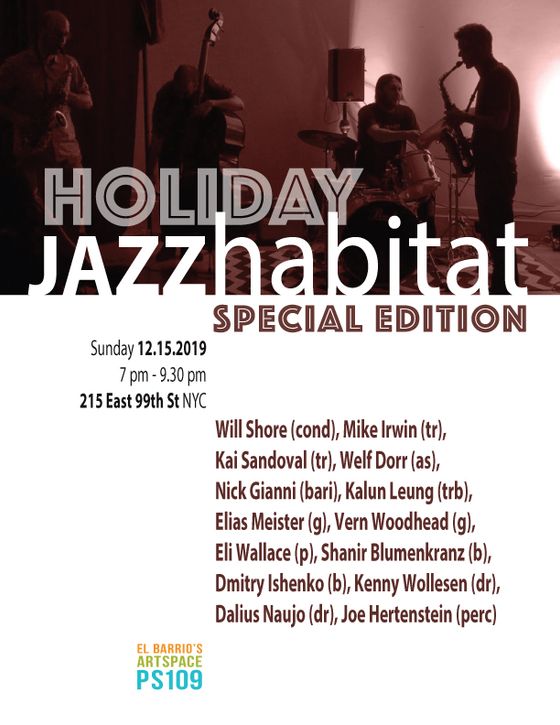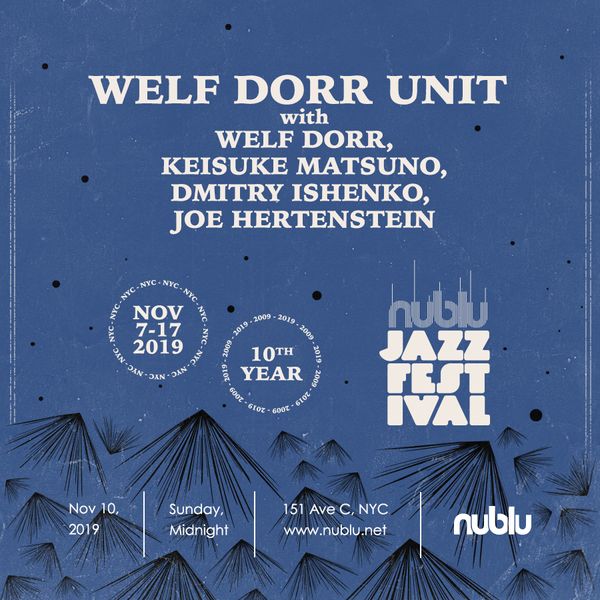 Welf Dorr Unit at nublu Jazz Festival on Nov 10th (midnight)
with Keisuke Matsuno (g), Dmitry Ishenko (b) & Joe Hertenstein (dr)...
Ches Smith Trio (with Matt Mitchell & Nick Dunston) at 10pm
check out the complete schedule at http://nublu.net/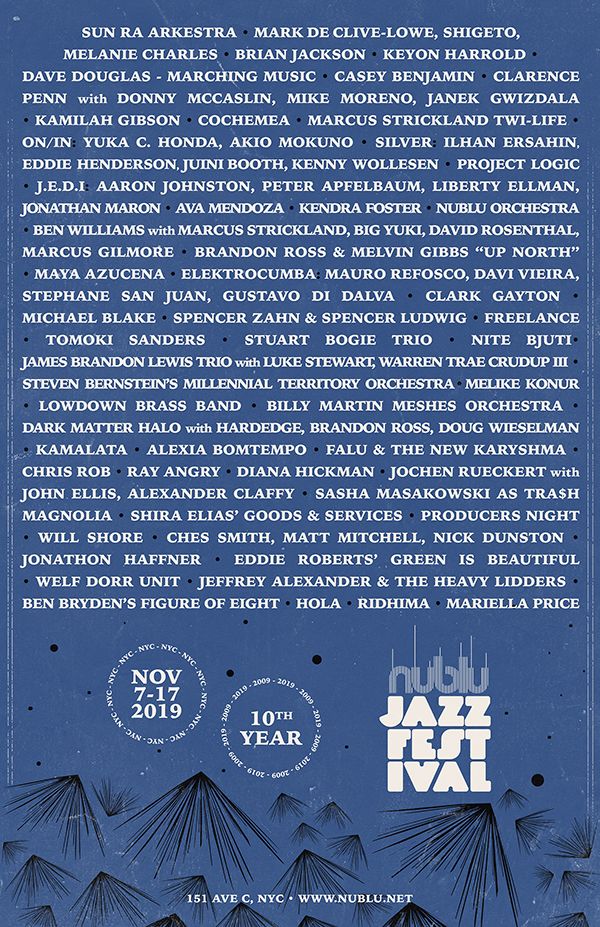 ORGANISM - a multidisciplinary theatrical performance with the Creative Music Improvisers Orchestra conducted by Billy Martin and Karl Berger featuring dancers Yoshiko Chuma, Nicholas Van Young, Savia Berger and musicians Ingrid Sertso, Peter Apfelbaum, Jason Hwang, Christof Knoche, Welf Dorr and many more...
October 12, 8pm, Tusten Theater, 210 Bridge Street, Narrowsburg NY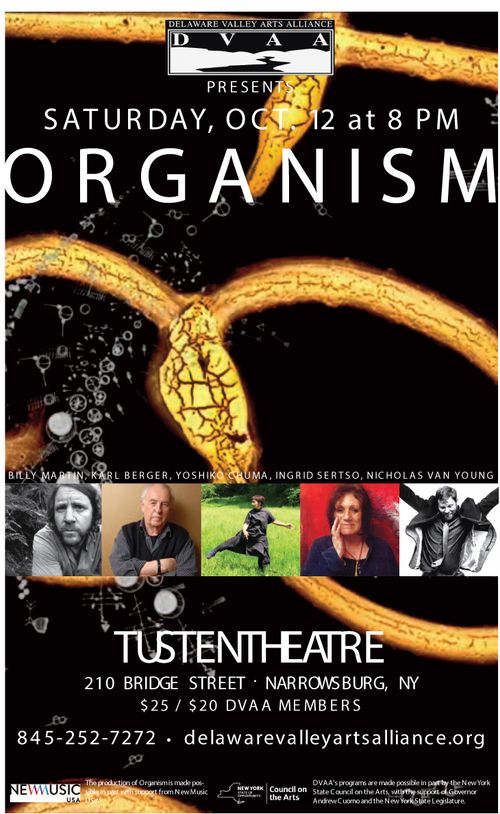 Welf Dorr Unit with Keisuke Matsuno (g), Dmitry Ishenko (b), Kevin Shea (dr)
at Arts For Art In Garden Series on Oct 5th, 4:30pm,
also on the bill: Ava Mendoza w' Daniel Carter, James Brandon Lewis, Shayna Dulberger
(Children Magical Garden, 129 Stanton St)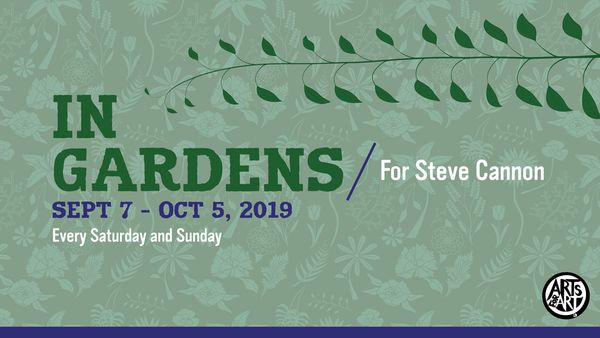 nublu show-case Sunday, Jan 14th (4pm-2am)
nublu, 151 Ave C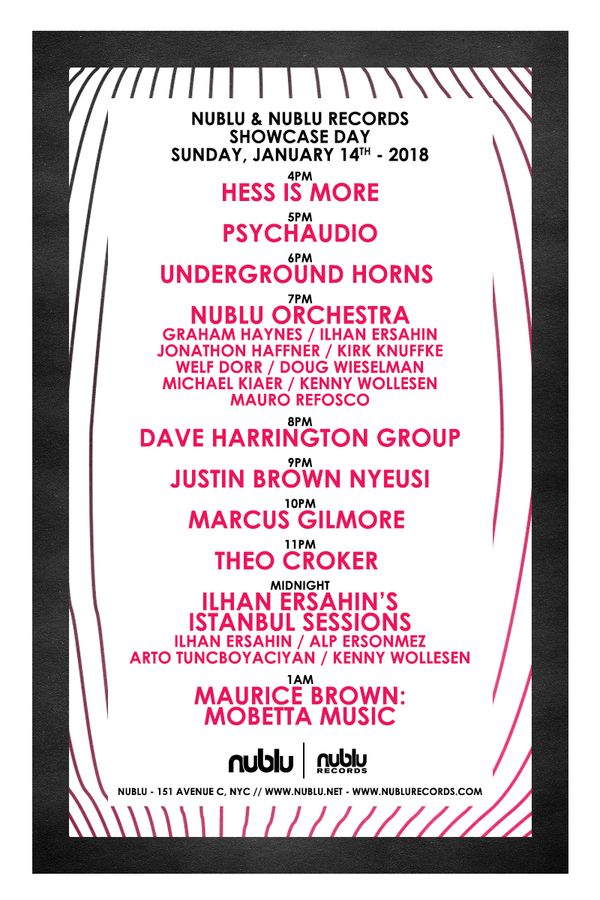 4pm- Hess Is More, 5pm- Psychaudio, 6pm- Underground Horns,
7pm- Nublu Orchestra (Graham Haynes, Ilhan Ersahin, Jonathon Haffner, Kirk Knuffke, Welf Dorr, Doug Wieselman, Michael Kiaer, Kenny Wollesen, Mauro Refosco),
8pm- Dave Harrington Group, 9pm- Justin Brown Nyeusi, 10pm- Marcus Gilmore,
11pm- Theo Crocker, 12am- Ilhan Ersahin's Istanbul Session,
1am- Maurice Brown Mobetta Music
---
WELF DORR UNIT at nublu, 62 Ave C
FREE FUNK - URBAN BLUES
April 27, 11pm &1am
with Dave Ross (guitar), Dmitry Ishenko (bass) & Joe Hertenstein (drums)
---
WELF DORR UNIT at nublu, 62 Ave C
FREE FUNK - URBAN BLUES
February 25, midnight & 1:30am
with Dave Ross (guitar), Dmitry Ishenko (bass) & Joe Hertenstein (drums)
---
Welf Dorr, Ras Moshe, Kenny Wollesen
at Black Lives Matter Pop-up Art Show, January 31, 8pm
The Living Gallery, 1094 Broadway, Brooklyn
---
Welf Dorr Unit is playing on 12/15 (9pm) at the nublu Jazz Festival (151 Ave C)...
free funk - urban blues
"Jazz is the Teacher, Funk is the Preacher"
with Welf Dorr (sax), Dave Ross (guitar), Dmitry Ishenko (bass) & Chris Eddleton (drums)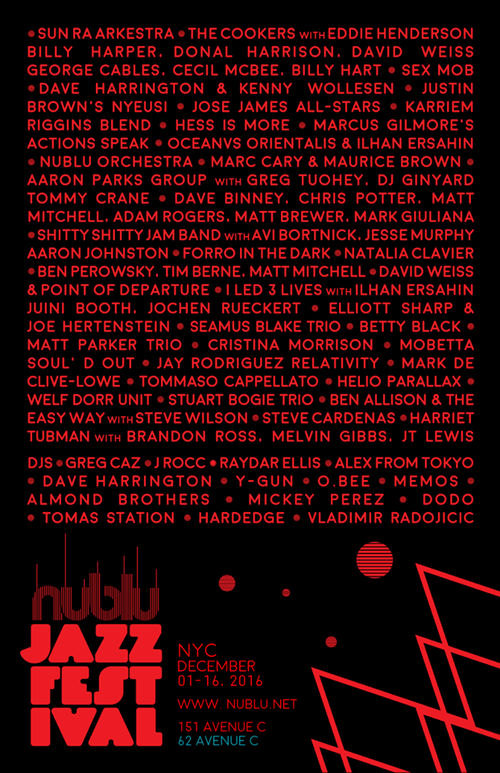 ---

Underground Horns will play at the Blue Note on April 29th (midnight)
as part of their Late Night Groove series...
$10 advance tickets, $15 at the door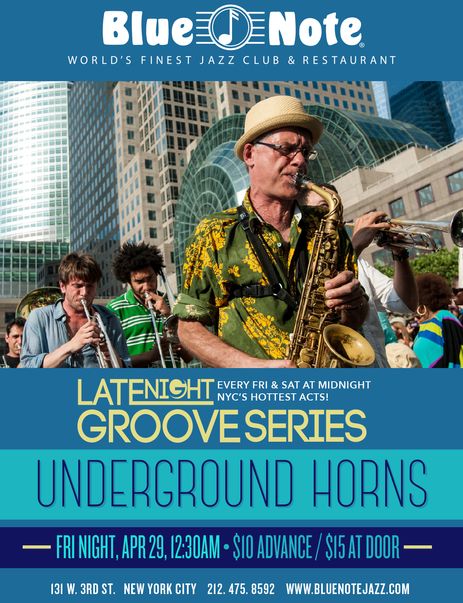 ---
 
Underground Horns will be part of the Billy Strayhorn Centennial Celebration
on Nov 29 (9:30pm) at Jazz at Lincoln Center (Dizzy's Coca Cola Club)...
we will play all Billy Strayhorn compositions especially arranged for this occasion
with an extended form of Underground Horns - a 10-piece group -
featuring David F Gordon (trumpet), Andrew McGovern (trumpet), Welf Dorr (alto, arrangements), Isaiah Richardson Jr (tenor, clarinet), Alex Asher (trombone), Chanell Crichlow (tuba), Alexis Marcelo (piano), Robert Anderson (bass), Peter Barr (drums) and Paula Green (percussion)